Can the Boss continue his run on the top, or will Brooks finally unseat him?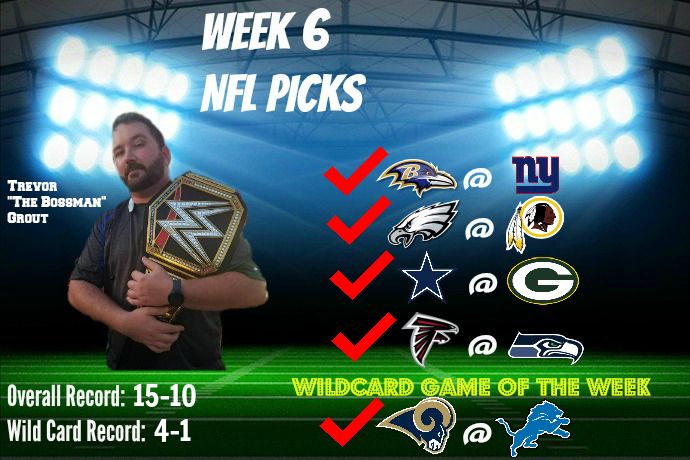 Baltimore Ravens @ New York Giants
The surprise of the season is that the Ravens are 3-2 while the Giants are 2-3. Like I've said before Odell Beckham Jr has been nearly invisible on the field, but he's been seen a few times on the sidelines. My gut is telling me who to go with and considering I'm in first place I am going to stick with that..
My Pick: Baltimore Ravens
Philadelphia Eagles @ Washington Redskins
No way in hell the Redskins beat the Eagles…NO WAY!!
My Pick: Philadelphia Eagles
Dallas Cowboys @ Green Bay Packers
Dak Prescott is further cementing himself as a solid if not the solid Rookie of the Year candidate along with Carson Wentz of Philadelphia. Only problem remains is if and when Romo is 100% healthy do the Dallas Cowboys make the switch.
My Pick: Dallas Cowboys
Atlanta Falcons @ Seattle Seahawks
Can Atlanta be stopped? I am going to go out on a limb and say with a big ole NO.
My Pick: Atlanta Falcons
Wildcard Game of the Week
Los Angeles Rams @ Detroit Lions
Somehow, someway the Rams keep winning. The Lions are well…the Lions. Without the megastar that was Calvin Johnson I said their passing attack would struggle and it has at times.
My Pick: Los Angeles Rams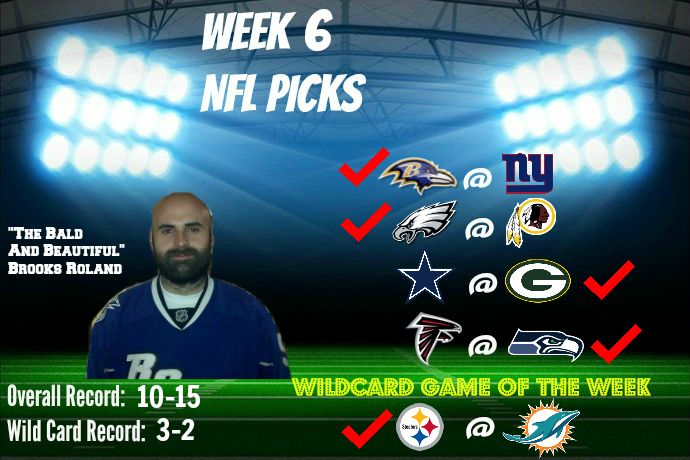 Edit (Brooks Record 15-10)
PHILADELPHIA AT WASHINGTON
The second and third-place teams in the NFC East meet up in DC in a crucial divisional showdown, especially with the 4-1 Cowboys off to such a great start. The Eagles suffered their first loss of the season a week ago in Detroit by a 24-23 score after Carson Wentz threw the first interception of his NFL career on Philly's final drive of the game. Washington edged out Baltimore 16-10 in a tough road contest on the same day. Although the Eagles are playing their second straight road game, it's a short trip, and I expect Wentz and the defense to bounce back after last week's tough loss. Going with Philly in this one.
My Pick: Philadelphia Eagles
BALTIMORE AT N.Y. GIANTS
Following the Ravens' home loss to the Redskins last week, Baltimore head coach Jim Harbaugh canned his offensive coordinator, Marc Trestman. The last time the Ravens fired their OC was 2012, the same year they won their last Super Bowl. Not saying that the Ravens will win it again this year, but firing Trestman was a move that had to be made since their offense has been in a funk. Following a 2-0 start, the Giants have dropped three in a row, including the last two on the road. Both teams' offenses get back on track in this one, but I think the Ravens end up squeaking out a win by a field goal in this one.
My Pick: Baltimore Ravens
ATLANTA AT SEATTLE
The 4-1 Falcons are for real, as they've beaten last year's Super Bowl participants in each of the last two weeks, including last week's 23-16 win in Denver. Matt Ryan is having an MVP-type season so far, while Devonta Freeman and Tevin Coleman have been the best RB tandem in the league up to this point. Seattle is coming off their bye week, but sit atop the NFC West with a 3-1 record. Although Atlanta's defense looked better last week, do you really trust them for a second straight week on the road, especially against a Seahawks team coming off a bye? I don't. Since Russell Wilson's rookie year in 2012, Seattle is 29-5 at home. I look for them to improve on that mark.
My Pick: Seattle Seahawks
DALLAS AT GREEN BAY
Slightly lost in all the Dak Prescott hype is the fact that fellow rookie Ezekiel Elliott leads the NFL in rushing for the 4-1 Cowboys, who lead the NFC East after last week's convincing win over Cincinnati. This game will be a big test for Prescott, whose play has caused a QB controversy in Dallas. The Packers are coming off a 23-16 home win over the Giants on Sunday night, and although we've seen glimpses of the Packers' offense of old, they haven't quite put it together for a full four quarters yet. I think this is the week that happens, as Green Bay's defense does just enough to slow Prescott and Co. down while Aaron Rodgers has one of those games that reminds you why he's one of the elite signal-callers in the NFL.
My Pick: Green Bay Packers
WILD CARD GAME OF THE WEEK
PITTSBURGH AT MIAMI
If you're in one of those survivor/eliminator pools and Pittsburgh is available, make them your pick this week. The Dolphins are struggling mightily on both sides of the ball and sit in last place in the AFC East at 1-4. The Steelers are 4-1 and look like legitimate Super Bowl contenders. The play of their defense has picked up considerably over the last couple of weeks, but the offense is on another level right now. Ben Roethlisberger and his wide receivers are all on another level right now. This is not only the easiest pick of the week, but it might be one of the easiest picks I make all season. Steelers take this one in a blowout.
My Pick: Pittsburgh Steelers
Baltimore @ NY Giants: The G Men are in a weird place right now, losing three straight and dealing with the soap opera that is Odell Beckham, Jr. While they manage to keep most of their games close, the drama could intensify with the Ravens coming to town. Yeah, the same Ravens that ranks third overall in total defense. I'm not crazy about Joe Flacco or Eli Manning, but the former should fare better this Sunday. Pick: Ravens
Philadelphia @ Washington: Speaking of the NFC East, this game right here could decide who's on top of the division this week, especially if Dallas loses (more on that in a bit). There's a chance the Skins will be without TE Jordan Reed due to concussion protocols. Even if Reed is good to, Philly's defense is no joke, more so against the run. Factor in current rookie sensation Carson Wentz and a plethora of offensive weapons, Washington might be playing from behind in this one. Pick: Eagles
Dallas @ Green Bay: Another pick with an NFC team in it. Right now the Cowboys are on top of the division thanks to the play of rookies Dak Prescott and Ezekiel Elliott. The Packers are still somewhat iffy on offense, but can still put points on the board. However, their pass defense is beyond suspect, even though they rank first against the run. Prescott will be forced to pass all day, which could be bad if Clay Matthews and the bunch don't add pressure. This is a hard one to choose. Pick: Packers
Atlanta @ Seattle: The Dirty Birds are flying high since their opening week loss. The same can't be said for the Seahawks however, with Russell Wilson nursing a nagging injury. Seattle still has one of the premiere defenses in the league, but so does Denver, and we all saw what happened to them last week right? Pick: Falcons
Wild Card
Cleveland @ Tennessee: I gotta be honest, this game is just one I kinda closed my eyes and put my finger on. Truth be told, no one is expect either of these teams to make a lot of noise. After all, the Browns can't seem to keep a healthy QB, and the Titans have been the bottom feeders of the AFC South for years. Music City is on the come up though. Marcus Mariota has a groove going, helped out with the addition of DeMarco Murray. The Miracle was a lifetime ago, but Tennessee might be the dark horse of their division. Pick: Titans
Baltimore Ravens @ New York Giants- Both teams are riding surprising records but in opposite ways. The Ravens are sporting a 3-2 record despite a rough start for their offense that saw offensive coordinator Mark Trestman receive his walking papers. The Giants after starting 2-0 have lost three straight games and between the 100 million defense not living up to expectations and the struggles and cries of OBJ, are on the verge of falling into NFC East irrelevance. Giants lose a close one at home and drop their fourth straight. Pick: Ravens
Philadelphia Eagles @ Washington Redskins- This is a great NFC East match up that features two teams that are playing well right now. The Eagles suffered their first loss of the season before taking the week off, while the Redskins after a rocky start have begun to roll. In the end, this will be a close game that the Eagles win because of their defense.
Pick: Eagles
Dallas Cowboys @ Green Bay Packers- The Dak attack is for real baby! It is going to be all up to Dak to bring home a victory in this match up.  The Green Bay front seven have been stellar against the run this season, only allowing 42.8 yards per game on the ground, best in the league. Dak will be up to the task, and the Green Bay offense will continue to struggle, as the 'Boys continue to roll until controversy sets in next week when Romo is ready to roll for a few weeks before getting hurt again. Pick: Cowboys
Atlanta Falcons @ Seattle Seahawks- The Pug cant select all road teams can he? The Seahawks have a great track record at home and despite injuries to Russel Wilson and a struggling offense, find themselves on top of the NFC West. The Falcons have been the biggest surprise in the NFL, and shocked the world last week when they defeated the world champion Broncos. Taking another away team as the Falcons offense will find holes in another stellar defense and do just enough to secure a victory. Pick: Falcons
Kansas City Chiefs @ Oakland Raiders- Who would have thought that going into week six the Oakland Raiders would be in first place? Well actually it's one of the few calls i have gotten right this season. The Raiders defense has left much to the imagination , however and Chiefs coming off a bye week will look to engage in a shoot out as their defense has been spotty as well. Going to have to roll with the Las Vegas…..wait not yet…. Oakland Raiders to have the upper hand in a shootout. Plus I couldn't take all the away teams…….