The Pug redeemed himself a little bit last week. While Brooks might have won last week going 4-1… Trevor (The Boss) still sits on top the leader board due to a better wild card record. And then there is Ed…. Ed is well Ed…
Houston Texans @ Minnesota Vikings
Who would have thunk it that Adrian Pederson and Teddy Bridgewater go down….Sam Bradford comes in and the Vikings are 4-0…
My Pick: Minnesota Vikings
Atlanta Falcons @ Denver Broncos
The Falcons have one loss that came week one against the Tampa bay Buccaneers when they weren't firing on all cylinders yet…. since then they have been en fuego! The Broncos lost Trevor Siemian mid way through the game last week against the Bucs, but Paxton Lynch came in and played like a seasoned pro. This is a tough one to pick honestly, but I will go with a red hot Falcons team.
My Pick: Atlanta Falcons
New York Giants @ Green Bay Packers
Odell Beckham Jr has been a non-factor so far this season except for his bad luck on the sidelines. Green Bay had a bye week last week and currently they sit at 2-1. Aaron Rodgers hasn't been in prime form, but I don't think the Giants slip past the Packers in Lambeau Field.
My Pick: Green Bay Packers
Tampa Bay Buccaneers @ Carolina Panthers
Even with Derek Anderson under center for the Panthers I don't feel as though the Bucs are in a great place right now. This game is honestly a toss up and I should probably flip a coin to pick the winner.
My Pick: Carolina Panthers
Wildcard Game of the Week
Cincinnati Bengals @ Dallas Cowboys
Dak Prescott is a BEAST! Andy Dalton doesn't have Tyler Eifert…yet Dallas may have found their replacement for Tony Romo..
My Pick: Dallas Cowboys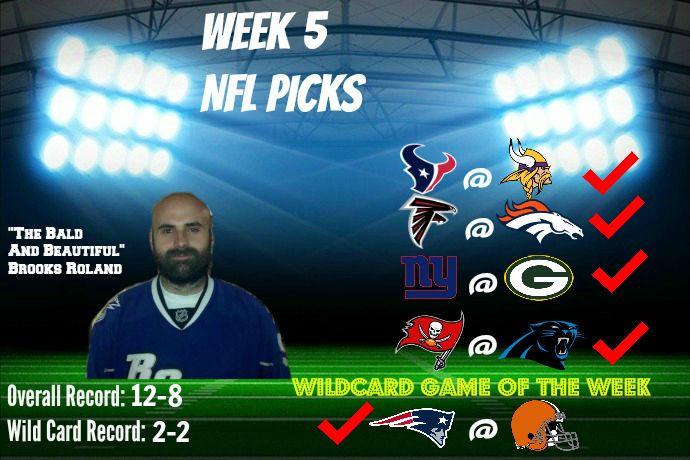 HOUSTON AT MINNESOTA
For the first time since 2009, the Minnesota Vikings are 4-0 after taking down the New York Giants 24-10 on Monday Night Football. Keep in mind, this is without franchise QB Teddy Bridgewater or future Hall of Fame RB Adrian Peterson. Raise your hand if any of you thought they'd be 4-0 without those two. Now put them down, because you're a liar. The Vikings, led by their stout defense, will look to stay undefeated when they host the 3-1 Houston Texans in one of the big early games on Sunday. Houston will be without J.J. Watt for the rest of the season, but their defense continues to play well despite his absence, while the offense bounced back against the Titans after getting shut out the week before against New England. I expect a low-scoring, 14-10 type of game between two stellar defenses that comes down to field position and two turnovers, but in the end, the Vikings will stay undefeated.
My Pick: Minnesota Vikings
ATLANTA AT DENVER
The Falcons sit in first place in the NFC South after their 48-33 win over Carolina in Week 4, two games ahead of everyone else in the division, thanks to a 500-yard passing performance from Matt Ryan and a sensational day from Julio Jones. Jones had the sixth-most receiving yards in a game in NFL history, catching 12 passes for 300 yards and a TD against the Panthers. He and Ryan will have their work cut out for them this week, though, as they head west to take on the undefeated Denver Broncos. The Broncos are coming off a relatively easy 27-7 victory in Tampa Bay in which Trevor Siemian left the game early due to a shoulder injury. It didn't matter, as rookie Paxton Lynch came in and looked very comfortable running the offense. The Denver defense was its usual fantastic self, and that was without much contribution from Von Miller. While Julio Jones will get his yards, I don't expect him to get anywhere near 300 against this defense. Denver's offense didn't miss a beat without Siemian, and going against a Falcons defense that doesn't conjure up visions of the '02 Bucs, they should put up their share of points. I say the Broncos stay undefeated.
My Pick: Denver Broncos
N.Y. GIANTS AT GREEN BAY
The Giants will play their second straight road game against an opponent from the NFC North when they head to Lambeau Field to take on the Packers on Sunday Night Football. New York is 2-2 after their second consecutive loss, a 24-10 setback on Monday night when their offense ran into the buzzsaw that is the Minnesota Vikings' defense. Odell Beckham, Jr. has more altercations with kicking nets than he does touchdown catches, and that's not a trend that can continue if the Giants' offense is to get back on track. He simply can't repeat his three-catch, 23-yard performance that he put on the board against the Vikings, of course some of this also falls on Eli Manning being able to turn it around as well. Green Bay is 2-1 and coming off a bye week, as they beat the Lions 34-27 in their last game after getting out to a big lead. Their offense was just starting to play like the Packers' offense that we've grown accustomed to over the last several years before the bye week came along. Although the Giants' defense is improved over last year's edition, I don't see them being able to slow down Aaron Rodgers and Co. on Sunday night. I think Eddie Lacy ends up having a big night as well, and the Packers get their third win of the year.
My Pick: Green Bay Packers
TAMPA BAY AT CAROLINA
A pair of struggling 1-3 NFC South rivals meet up in Charlotte on Monday Night Football, and to say this is gut check time for both the Bucs and Panthers is a massive understatement. Following a season-opening win in Atlanta, the Bucs have gone into a tailspin, dropping three straight games and looking terribly unimpressive during that time. While the Bucs' defense played well for stretches in their 27-7 home loss to Denver, their offense couldn't get anything going, as Jameis Winston has bounced back-and-forth between productive and horrendous, tossing eight TD's along with eight INT's. The Bucs are going to need him to cut down on the turnovers if they're going to turn things around. Meanwhile for Carolina, their offense took a while to get going against Atlanta, and by the time they did, it was too late. Cam Newton entered the concussion protocol after taking a hit during that game, and his status for Monday night is unclear at this time. Whether it's Newton or Derek Anderson under center for Carolina they will need to find Kelvin Benjamin early and often in order to take advantage of a Bucs' pass defense that has been bad so far. The Panthers' defense hasn't looked anything like the intimidating unit of 2015, but this could be the matchup they need to reverse their fortunes so far in 2016. I'm taking the Panthers in a close one.
My Pick: Carolina Panthers
WILD CARD GAME OF THE WEEK
NEW ENGLAND AT CLEVELAND
Tom Brady finally makes his return to his role as the Patriots' starting QB following a four-game suspension, and not a moment too soon, as New England had been dealing with injuries to both Jimmy Garoppolo and Jacoby Brissett. The Pats are coming off their first shutout loss since 2006 and their first shutout defeat at home since 1993, so getting a chance to play the Browns should be the perfect antidote for what has ailed New England. I look for Rob Gronkowski to finally break out and have his first big performance of the 2016 season since Brady is now back in the lineup. The Browns are the last winless team in the NFL and their QB spot has been ravaged by injuries so far. On a positive note, Isaiah Crowell and Terrelle Pryor have been impressive contributors on the offensive side of the ball despite the turmoil at QB. On the other end, the Browns' defense is in the bottom third of the league in total yards allowed per game and has allowed the sixth-most points in the NFL. Expect that trend to continue as Brady and the Pats rebound from last Sunday's loss to Buffalo.
My Pick: New England Patriots
Tampa Bay Buccaneers @ Carolina Panthers- Would have never guessed both teams to start the season 1`-3. Last week the Panthers defense got torched by Julio Jones for 300 yards and a score. Miss Josh Norman yet? Also while acting like he had the two point conversion in the bag and nonchalantly scrolling in the endzone, Cam Newton took a hit and will not play in this game. You would think Derek Anderson would be good news for the Bucs? They are 0-2 against him. 0-3 after this game, Bucs lose a close one. Pick: Panthers
Houston Texans @ Minnesota Vikings- The Texans are off to a 3-1 start and have gotten amazing production out of rookie WR Will Fuller. His punt return for a touchdown last week wound up being the difference in the game, and Houston already has a two game lead in the AFC South. All that said, the Vikings are playing like they are the best team in the NFL right now, and their defense is just lights out. Brock Osweiler and company struggle in this one. Pick: Vikings
Atlanta Falcons @ Denver Broncos- This is a classic tale of offense vs defense. Matt Ryan and the Falcons offense has been nothing short of spectacular this season, surprising many people, including myself. After appearing to lose some talent defensively in the offseason, the Broncos haven't skipped a beat from Super BOwl 50 and are still undefeated on the year. The Broncos are starting rookie QB Paxton Lynch who looked pretty sharp against the Bucs. The Broncos offense has more promise than the Falcons defense though, and that's why the edge goes to the Broncos. Pick:Broncos
New York Giants @ Green Bay Packers-  With all the changes the Giants made in the off-season, the team now seems to be crumbling from within. The expensive defense hasn't quite lived up to expectations, while once prominent Odell Beckham Jr. has been nothing short of a distraction this season. Packers have had their struggles, but last week looked to get back on track and once the Pack get rolling they tend to take out everyone in their way, including Big Blue. Pick: Packers
Wildcard: Philadelphia Eagles @ Detroit Lions- The Eagles travel away from Wentzadelphia to take on the struggling Lions. Coming off a successful first few games Carson Wentz has the Eagles fans believing. I'm with them as this team is going to be good throughout the season. The Lions showed signs of life early on, but they have since returned to, well, being the Lions. The Lions rank 21st in the league in passing yards and their secondary is banged up. Look for Wentz to continue his success in this one. Pick: Eagles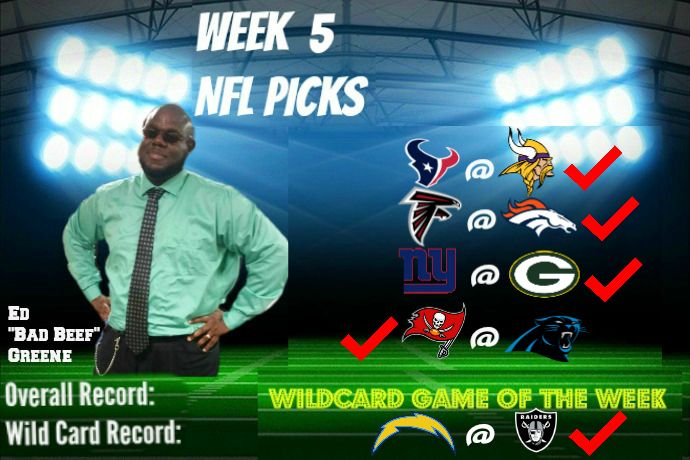 Tampa Bay @ Carolina: I never would've thought that both these teams would have the same record going into Week 5. Carolina has yet to capture that magic from a season ago, while the Bucs are looking to turn their season around before its too late. Josh Norman was the it factor for the Panthers, but he's long gone. On paper, Carolina is the better team, but I think I'm going against the grain with this pick. Pick: Buccaneers
Houston @ Minnesota: The Vikings are one of the last teams left that are currently undefeated. I've never been a big believer in Sam Bradford, but he's a capable passer if he remains healthy. The Texans, meanwhile, have lost star player J.J. Watt for the year, so the pass rush will be slightly crippled. DeAndre Hopkins is still a stud, but the Minnesota defense is no joke. Brock Osweiler will have his work cut out for him. Pick: Vikings
Atlanta @ Denver: Matt Ryan went off on the Panthers last week, passing for over 500 yards. Don't expect him to have a game like that this week though as the Falcons venture into Mile High. The Broncos are still the best defense in the league. Even though the offense is shaky, Von Miller and the crew can keep opponents out of the end zone. Plus, Atlanta doesn't really have a defense to write home about. Pick: Broncos
NY Giants @ Green Bay: Eli Manning has been known to steal a game or two at Lambeau Field. Even at 35, he can still get the job done when he needs to. It's possible that it could happen this week against a suspect Packers D. However, the Odell Beckham Jr. saga has been the talk of the Meadowlands lately, and the G-Men aren't exactly on the same page. Aaron Rodgers and the Packers offense are still trying to find a rhythm, but this could be their week to right the ship. Pick: Packers
Wild Card
San Diego @ Oakland: Outside of the Broncos, its a three dog race for second place in the AFC West. Truth be told, this is a hard game to pick, as you never know whether the Chargers and Raiders are going to show up on a given week. These blood rivals both have spotty defenses (fantasy experts say to start Derek Carr and Philip Rivers if you got them), so it's going to be a shoot out. I'm still a believer in the Black Hole for the time being, so I think Raider Nation will pull this one out. Pick: Raiders