So we head into week four of the NFL season and there are some surprises in our NFL Picks. Defending Champ The Pug has fallen into last place (Yes Ed Greene is ahead of him). Trevor has taken a one game lead due to a better wild card record.  New guy on the picks Brooks Roland is hanging in there sitting in second place.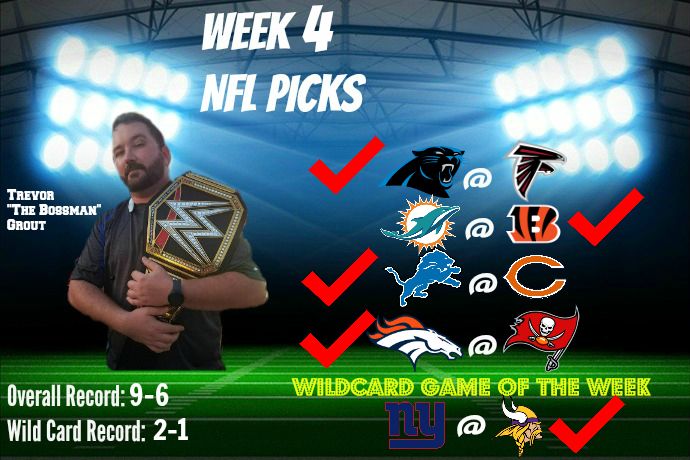 Carolina Panthers @ Atlanta Falcons
Cam….whats going on man? A 1-2 start to the season for a team who was in the Super Bowl last season minus number one receiver Kelvin Benjamin…Now you have him back and you lose more game through three weeks than you did all last season? While the Falcons and Matt Ryan have only lost one game….opening week to the Buccaneers.. This is a tough game to pick, but I am going to go with my gut.
My Pick: Carolina Panthers
Miami Dolphins @ Cincinnati Bengals
This one is easy
My Pick: Cincinnati Bengals
Detroit Lions @ Chicago Bears
My god two easy picks in a row? Who picked these games this week? Oh wait that was me..
My Pick: Detroit Lions
Denver Broncos @ Tampa Bay Buccaneers
Not such an easy game to pick… Denver comes in with the most dominating defense in the NFL while the Bucs defense hasn't hit it's stride just yet. The Bucs offense is playing as well if not better than they did last season..(Minus the Arizona Game). I have to go with my gut on this one as well and say the Buccaneers will fall to 1-3 on the season.
My Pick: Denver Broncos
Wildcard Game of the Week: New York Giants @ Minnesota Vikings
The biggest shock of this young NFL season is the play and record of the Minnesota Vikings with….Sam Bradford at the helm…. yup you heard me right a Sam Bradford led team has a undefeated record. Eli Manning and the Giants hold solid at 2-1 while Odell Beckham Jr is 0-1 vs the kickers net.
My Pick: Minnesota Vikings
CAROLINA AT ATLANTA
Since getting taken down on their home field in Week 1, the Falcons have bounced back with back-to-back impressive road wins, the most recent coming on Monday Night Football in New Orleans by a 45-32 score.  This week, they return to the Georgia Dome for another big divisional showdown, this one against a desperate Carolina team that is coming off a 22-10 home loss to Minnesota that wasn't as close as the score might indicate.  The Falcons' offense has been running on all cylinders the last two weeks, as Tevin Coleman has emerged to provide a formidable one-two punch in Atlanta's backfield with Devonta Freeman.  The Panthers will look to get their offense back on track after giving up eight sacks against the Vikings.  Give me Atlanta in another shootout victory.
Pick:  Atlanta Falcons
MIAMI AT CINCINNATI
The Dolphins are coming off their first win of the season, although it took overtime against the hapless Cleveland Browns to make it happen.  Meanwhile, the Bengals are off to a 1-2 start after seeing their defense get dismantled by a QB making the first road start of his career in a 29-17 loss to Denver.  Dolphins QB Ryan Tannehill is still prone to following up some brilliant TD throws with some befuddling INT's.  Cincinnati will look to keep their ground game going, as Jeremy Hill had a pair of TD's against Denver, but in order for them to get their season back on track, QB Andy Dalton is going to have to regain his old form.  Their defense will also get a boost with the return of LB Vontaze Burfict from a three-game suspension.  I'm gonna take Cincinnati on the short week at home, as I just don't know which Tannehill we're going to see.
Pick:  Cincinnati Bengals
DETROIT AT CHICAGO
The Lions might no longer have Calvin Johnson churning out yards and catches through the air, but they haven't missed much of a beat, as Marvin Jones has stepped in nicely as the go-to receiver for Matthew Stafford.  Other than, its pretty much been the same old song and dance in Detroit, as the Lions have relied heavily on their passing game so far in 2016 due to their defense giving up the fourth-most points in the league through the first three weeks.  While the Lions have been in shootouts, the Bears are starting down the barrel of a rebuild, as they're one of four 0-3 teams in the NFL right now.  The Bears are the fourth-worst team in the league in total offense, and are looking at a lengthy absence for QB Jay Cutler, who wasn't exactly lighting it up before he went down.  Make it 0-4 for Chicago, as Detroit picks up the win.
Pick:  Detroit Lions
DENVER AT TAMPA BAY
In the first road start of his career, Broncos QB Trevor Siemian lit up the Bengals to the tune of over 300 yards and 4 TD's, becoming the first QB in NFL history to throw for over 300 yards, 4 TD's, and no INT's in his road debut.  He even looked a little like the pre-2015 version of Peyton Manning, the guy he replaced in Denver.  With a 3-0 record, the Broncos will make their first visit to Raymond James Stadium since 2004 to take on the 1-2 Tampa Bay Buccaneers.  Against the Rams, some questionable clock management, defensive breakdowns, turnovers, and missed kicks led to the Bucs suffering a heartbreaking 37-32 loss to LA, who had scored 9 points in the first two weeks.  Jameis Winston bounced back from Week 2's disastrous showing, but this seems like quite the tall task for Tampa Bay against the defending Super Bowl champs, who show no signs of slowing down so far in 2016.  I'm going with the Broncos' train to keep on rolling.
Pick:  Denver Broncos
WILD CARD GAME OF THE WEEK
KANSAS CITY AT PITTSBURGH
The Steelers will look to bounce back on Sunday Night Football after going on the road and getting pounded 34-3 in Philadelphia, their first loss of the season.  Kansas City improved to 2-1 after embarrassing the New York Jets 24-3 at Arrowhead Stadium, as their defense forced eight turnovers, including six interceptions of Jets QB Ryan Fitzpatrick.  Despite all of those turnovers, the Chiefs' offense didn't do a whole lot with those gifts, scoring just 10 points while the defense scored a pair of TD's of their own.  The Steelers will get a big boost on the offensive side, as RB Le'Veon Bell will suit up for the first time this season after sitting out the first three weeks because of a suspension.  Unless QB Ben Roethlisberger goes full Fitzpatrick, I don't see the Steelers losing this one.  The last seven times the Steelers have been held out of the end zone, they have bounced back to win the following week.  I'm expecting that trend to continue in prime time on Sunday night.
Pick:  Pittsburgh Steelers
Carolina @ Atlanta: Who would've thought that Carolina would be tied for second (or third) in the NFC South. After a terrible loss at the hands of a surging Vikings team, Cam Newton and the bunch will be looking to get back to their winning ways against the Falcons. While Atlanta found their groove on Monday, they did play against a New Orleans defense that scares no one (although Julio Jones was held in check). Pick: Panthers
Miami @ Cincinnati: Not exactly the sexiest of games, but could have implications down the line. Well, at least for the Bengals. Miami managed to beat a Cleveland team in OT with their third string QB (sound familiar?), while Cincy lost to one of the best defenses in Denver. I'm not a believer in the Fins, while the AFC North is wide open with Pittsburgh getting blown out by Philly. Pick: Bengals
Detroit @ Chicago: Ugh, the battle for third place in the NFC North begins with this gem at Soldier Field. Da Bears have yet to secure a victory this season, while the Lions fought back from a potential blowout at Lambeau last week. Let's face it, both teams are a mess right now, especially on defense. But if I were a betting man, I'd put my money on Matt Stafford on the Lions offense. Pick: Lions
Denver @ Tampa Bay: The Broncos are still the Broncos defensively, and second year QB seems to be finding his footing running the offense. The Bucs, meanwhile, lost a close one at home to the Rams, and you can bet that Von Miller and the crew will give Jameis Winston fits all game. My concern is the Tampa Bay defense, with a backfield that is prone to giving up huge plays (hello, Chris Conte). This could get ugly real fast. Pick: Broncos
Wild Card
 
New Orleans @ San Diego: I'm always interested in a game in which Drew Brees plays the team that drafted him. New Orleans is in need of a win, and Drew can only do so much. The defense is practically non-existent, which means that Philip River could (and should) have a field day. Nothing is a given of course, but hey we are talking about the Saints D. Pick: Chargers
Carolina Panthers @ Atlanta Falcons– After 3 weeks, the Atlanta Falcons find themselves on top of the NFC South, while the Panthers have already lost more games this year than they did last year. The Falcons potent offense has them on top, but they have yet to face a defense capable of stopping them like they will this week. Panthers are chomping at the buts after being embarrassed by Minnesota last week and should pull it out in a close one. Pick: Panthers
Miami Dolphins @ Cincinnati Bengals– Both teams enter week 4 at 1-2, but without sugar coating it, the Bengals are the superior team. The Bengals two losses are to quality teams, while the Dolphins were outplayed last week by the Cleveland Browns, but some luck at the end of the game fell upon them and allowed them to win the game in overtime. The Dolphins have done nothing to make me believe they can beat the Bengals. Pick: Bengals
Detroit Lions @ Chicago Bears– One of the oldest rivalries in the NFL has provided us with some great games over the years, but this one may get ugly. The Bears are decimated with injuries and haven't been playing all that well defensively, which bodes well for a Detroit team that is all about the offense. Lions go to Chicago and grab a win.
Pick: Lions
Denver Broncos @ Tampa Bay Buccaneers– The offense for the Bucs has been playing well while the defense has been abysmal, giving up more points than any other team in the league. That creates a match up nightmare against the defending world champs, who have an outstanding defense and a young, learning offense that seemed to hit it's stride last week. Might be a long game for the Bucs if they can't find a way to get their secondary together. Pick: Broncos
Wild Card: Cleveland Browns @ Washington Redskins– The Redskins are coming off a big win against the division rival Giants. The Browns are coming off an overtime loss against the Dolphins and have yet to notch a W. According to wide receiver Terrelle Pryor the Browns are going to win out. I have to disagree as the Redskins will use home field to build their momentum. Oh yeah, and they are the Browns. Win out? At least Pryor has a career in stand up waiting for him after football. Pick: Redskins