There is a new leader of the pack heading into week 3. The Pug and Ed "Bad Beef" Greene continue to hover in the bottom of the rankings. New picker Brooks Roland has taken the solo lead while Trevor sits in second one game behind Brooks, but one game ahead of Pug and Ed.
BALTIMORE AT JACKSONVILLE
For the fourth time in the last seasons, the Jacksonville Jaguars are 0-2, and looked nothing like the team that took Green Bay down to the wire in Week 1, as they were blown out 38-14 in San Diego in Week 2. Penalties, three costly turnovers, and crossing midfield only six times were all heavy contributions to the Jags' loss. This week, they host the 2-0 Ravens, who dug themselves out of a 20-0 hole to beat the Browns 25-20 in Cleveland, as Joe Flacco threw a pair of TD's and Baltimore blocked an extra point that was returned the other way for two points, sparking the comeback. This week, the Ravens will need no such heroics, as Flacco should have a good day against a Jaguars defense that got shredded by Philip Rivers last week. It won't be a blowout, but Baltimore comes away with the win in this one.
My Pick: Baltimore Ravens
DENVER AT CINCINNATI
For the second straight week, Denver Broncos quarterback Trevor Siemian put on a solid performance, but it was the team's stellar defense that came through when it mattered most. The Broncos returned an Andrew Luck interception and fumble for TD's, the latter with under two minutes left in the game, to seal their 34-20 win over Indianapolis. While Denver is in a good spot at 2-0, Siemian will now face his first road test against Cincinnati, who is looking to bounce back from their first loss of the season, a 24-16 rain-drenched setback in Pittsburgh. This game is one of the toughest to pick so far this season, and I believe A.J. Green finds a way to bounce back from his two-catch, 38-yard performance in Pittsburgh. However, Denver's defense will find a way to make a few clutch plays again, and their offense will do just enough to squeak out a close, physical game in Cincinnati.
My Pick: Denver Broncos
SAN DIEGO AT INDIANAPOLIS
The Chargers are a Week 1 meltdown away from a 2-0 start, as they rebounded from that devastating loss in Kansas City by going up 21-0 on Jacksonville in Week 2. This time, they didn't sit back, as they added to that lead and cruised to a 38-14 win over the Jags. Unfortunately for San Diego, their offense took more of a beating, as RB Danny Woodhead joined WR Keenan Allen on Injured Reserve following an ACL tear in his knee that ended his season. However, the Chargers have found a way to score, as Tyrell Williams and Travis Benjamin have picked up the slack for Allen and Melvin Gordon continued his red-hot start. On the other hand, the Indianapolis Colts are now 0-2 for the third straight season, and things aren't looking so good for Andrew Luck and Co. Luck has been one of the few bright spots so far, but his offensive line continues to struggle, his running game has gone nowhere, and the Colts' defense is banged up and wasn't all that good to begin with. This game will likely be a shootout, as both Luck and Philip Rivers go back-and-forth, but in the end, Indianapolis remains winless while San Diego improves to 2-1.
My Pick: San Diego Chargers
LOS ANGELES AT TAMPA BAY
A week after their offense was in high gear against the Atlanta Falcons, the Tampa Bay Buccaneers came crashing back down to Earth in Arizona, as five turnovers by Jameis Winston and a defense that couldn't get pressure on Carson Palmer got torn apart by a motivated Cardinals squad. This week, they'll host the Rams in their home opener in what figures to be a crucial game for Tampa Bay before they have to play Denver and Carolina in consecutive weeks. Following their Week 1 embarrassment on Monday Night Football, the Rams played the first regular season game in Los Angeles in 22 years and came away with a 9-3 win over Seattle. After two weeks, LA still hasn't scored a TD of any kind as their only offensive weapon of consequence, Todd Gurley, has been held in check. This game figures to be a bounce-back performance for the Bucs' defense, which needs to display the kind of speed and pass rush they showed in Week 1. Although Tampa Bay could be missing Doug Martin, Winston will rebound from last week's dreadful performance and lead the Bucs to a win at Raymond James Stadium.
My Pick: Tampa Bay Buccaneers
WILD CARD GAME OF THE WEEK: ATLANTA AT NEW ORLEANS
Defense will be in short supply on Monday Night Football, as these long-time division rivals meet up for the first time this season. The Falcons are coming off a 35-28 win in Oakland as Matt Ryan threw for almost 400 yards to go along with three TD's, while Devonta Freeman and Tevin Coleman combined for 139 yards on the ground, evening up Atlanta's record at 1-1 after dropping their season opener at home to Tampa Bay. On the other hand, the Saints sit at 0-2 and are desperate, as they were held to just 288 yards of offense in a 16-13 loss to the Giants in New York. That game was the perfect example of why games are played on the field and not on paper, as everyone and their brother (including me) thought these two teams would match or exceed 2015's meeting, which ended in a 52-49 score in favor of New Orleans. Remember when I said that defense would be in short supply in this game? Well, both the Falcons and Saints are in the bottom five in the NFL in total defense after two weeks. While most of us thought that the Saints-Giants game from last Sunday would be a shootout, I would be shocked if this contest doesn't follow that script. In front of what should be a rowdy home crowd on MNF, the desperate Saints pick up their first win of the 2016 season.
My Pick: New Orleans Saints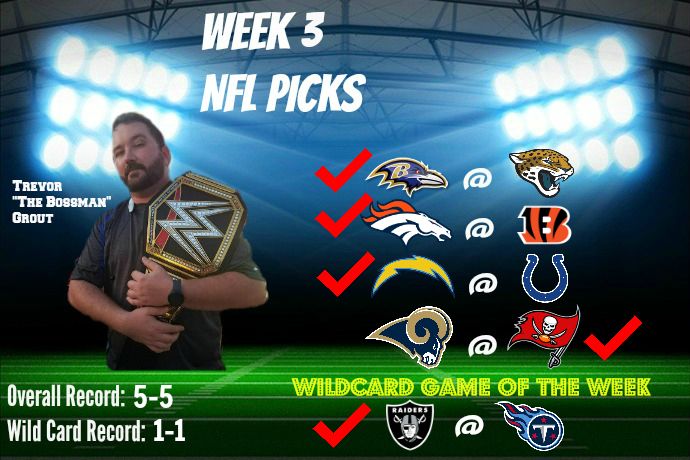 Ravens @ Jaguars
The Ravens are riding the reinvigorated Mike Wallace to a 2-0 record, while the Jaguars are going in the opposite direction to begin the season. Before week one had you told me Baltimore would be 2-0 and Jacksonville 0-2… I would have laughed at you. I thought Jacksonville was a team on the rise.
My Pick: Baltimore Ravens
Denver Broncos @ Cincinnati Bengals 
Trevor Siemian has the Broncos at 2-0 after two weeks…. oh wait never mind their defense has them at 2-0. Siemian has just been well average at best. While Andy Dalton and the Bengals are 1-1 heading into this game. Dalton has been un-Dalton-like and won't do any better against this superb defense. (FYI I drafted Denver's Defense in Fantasy Football…. So yeah..)
My Pick: Denver Broncos
San Diego Chargers @ Indianapolis Colts
My how the mighty have fallen… The Colts are sitting squarely at 0-2 behind Andrew Luck and his huge contract. One might say maybe just maybe Andrew Luck isn't as good as everyone thought he was. Phillip Rivers has yet to throw an interception this season while passing for five touchdowns. This is a no brainer to me.
My Pick: San Diego Chargers
Los Angeles Rams @ Tampa Bay Buccaneers
The newly relocated Rams have yet to get a touchdown in two weeks. Tampa looked good in week one then fell apart in week two. Case Keenum vs Jameis Winston… I'll go with the team with a starting franchise quarterback.
My Pick: Tampa Bay Buccaneers
Wildcard Game of the Week: Oakland Raiders @ Tennessee Titans
Derek Carr has started this season doing a very good job at protecting the ball. Through two games he has yest to throw an interception while throwing four touchdown passes. Marcus Mariota and the Titans sit at 1-1 much like the Raiders. I've picked the Titans before in my game of the week and they lost to the Vikings.
My Pick: Oakland Raiders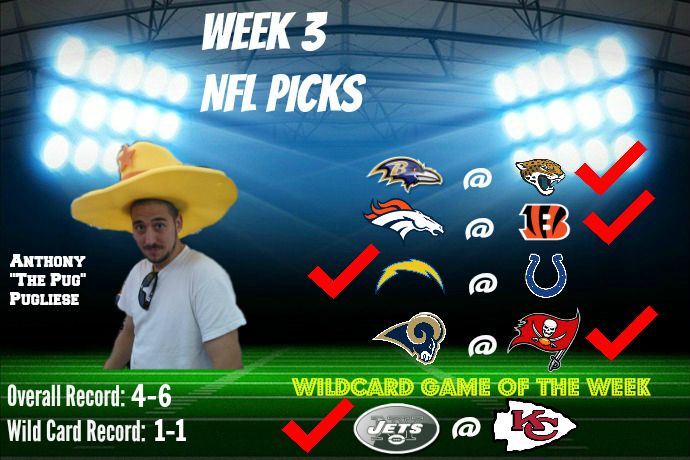 Ravens @ Jaguars– The Ravens are off to a 2-0 start, but their wins weren't the most impressive. The Pug's Waiver Wire Gem of Week for week 2 Mike Wallace has been the bright spot on the Ravens offense scoring 3 touchdowns. The Jaguars were looked upon to be much improved in 2016 , but have gotten off to a slow 0-2 start. After last week's beating they come back and the Jags offense is too much for the Ravens. Pick: Jags
Broncos @ Bengals– The Broncos defense has picked up right where they left off in Super Bowl 50 last year, including three sacks last week by Super Bowl MVP Von Miller. The Bengals defense has been under performing, and C.J. Anderson should take advantage of that. The defending champs lost DeMarcus Ware to a broken arm last week which will give Dalton more time and the Bengals more running lanes. That being said I think the Bengals offense will do just enough to pull out the upset in this game and improve to 2-1 on the season. Pick: Bengals
Chargers @ Colts– The hits keep coming for the Chargers as they have now lost two dynamic offensive weapons in Danny Woodhead and Keenan Allen. The Colts offense has been there, but the defense is absent, and the offensive line needs to do a better job of protecting Andrew Luck. Travis Benjamin has emerged as a nice weapon for San Diego, and Philip Rivers has the ability to carve up weak defenses. Look for the same here if San Diego gets pressure on Luck. Pick: Chargers
Rams @ Bucs– After taking a beating last week the Bucs go home for the first time this season to face the L.A. Rams. The Rams offense has been nearly non-existent, and it may be just the thing needed to have the defense gain some confidence after giving up 40 points last week. Teams are taking out Todd Gurley by stacking the box because Case Keenum scares nobody. Bucs bounce back at home.
Pick: Bucs
Wildcard: Jets @ Chiefs– Arrowhead is a tough place to play, but looking at the way these tow teams match up, I smell upset. The Jets have been prone to the big passing play, while the Chiefs sport a conservative pass attack. The Chiefs running game is on point, but the Jets run defense is one of the best in the league. AFC Offensive Player of the Week and Matt Forte will provide enough offense to upset the Chiefs at Arrowhead. Pick: Jets
We Couldn't find ED, but here are his picks
Baltimore @ Jacksonville– I've been high on the Jags for the last season and a half. They have a good offense and aren't too bad on defense. However, you might not suspect this following a blowout loss to a Chargers team is without their No. 1 receiver in Keenan Allen. This week is a home game against the Ravens, who are fresh off a victory against Cleveland. This could be a low scoring affair, but I feel that Jacksonville has the better offense. Pick: Jaguars
Denver @ Cincinnati– The boys from Mile High have been a nice surprise so far, totaling 55 points in two contests. It doesn't hurt that you have one of the best defenses in the league taking pressure off of your offense. Cincy lost a close one a Pittsburgh last week and will be looking to bounce back. AJ Green is a beast, however I'm not sold on the Bengals run game. Look for Von Miller and the crew to win the battle at the line of scrimmage. Pick: Broncos
San Diego @ Indianapolis– These two teams are somewhat equal to me, though the Bolts have the more seasoned quarterback. Philip Rivers and the Chargers were on point last week, but I can't fully get behind them. Andrew Luck will be looking for his first win of the season, and while his offense is more than capable, I can't really say the same about the Colt defenders. Pick: Chargers
Los Angeles @ Tampa Bay– An NFC match-up of two young teams. The Rams are fresh off a victory over division foe Seattle in which they held the Seahawks to three points. On the flip side, LA has yet to score an offensive touchdown of their own. Meanwhile, the Bucs will be looking to redeem themselves after a 40-7 beatdown in Arizona in which Jameis Winston threw four picks. Much like the Cardinals, the front seven of the Rams are no joke, so Jameis needs to be protected. In the end, Tampa Bay has the superior offense. Pick: Buccaneers
Wild Card: Pittsburgh @ Philadelphia
– Nothing like an in-state rivalry, right? What I like about this game is that both clubs are undefeated, and of course there will be bragging rights involved. Carson Wentz has been giving the Philly faithful something to sing about, coupled with three touchdowns courtesy of Ryan Mathews. Naturally, Steel City has Big Ben and Antonio Bryant, with DeAngelo Williams coming out of the backfield. The Eagles' streak looks like it will end
on Sunday
. Pick: Steelers