Our own Anthony "The Pug" Pugliese didn't fare too well in his picks last week. Trevor and Brooks take an early season lead in the standings while Ed Greene sits in the middle of the pack….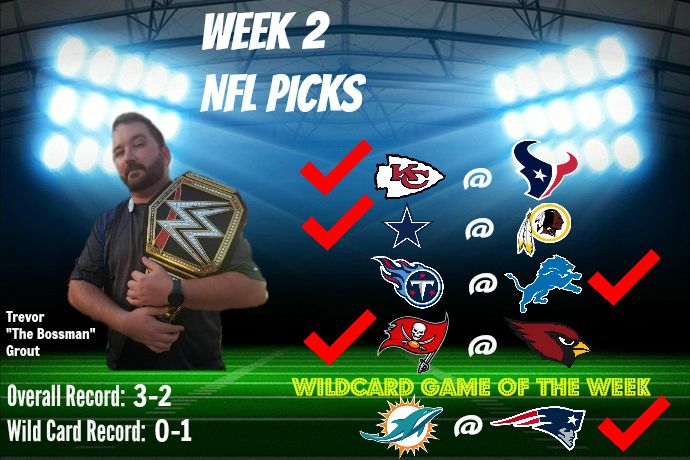 Kansas City Chiefs @ Houston Texans
Brock Osweiler did enough to help the Texans beat the Bears last week while other new Texan Lamar Miller rushed for over 100 yards. Not too far away Kansas City took the San Diego Chargers to the leagues first overtime game of the season behind 363 yards passing by Alex Smith. This could be a very good AFC match up. It's a toss up for me, but I feel Alex Smith is a proven starter where Osweiler is just beginning his starting career. My Pick: Kansas City Chiefs
Dallas Cowboys @ Washington Redskins
YOU LIKE THAT!!! Yeah I went there… Kirk Cousins and the Redskins didn't fare too well against the Pittsburgh Steelers Monday night losing 38-16 behind zero touchdowns from Cousins and two interceptions. Redskins running back Matt Jones only managed 24 yards on 7 carries. Dak Prescott didn't make too many mistakes zero touchdowns zero interceptions 224 yards in a one point loss to the NFC east rival New York Giants. This is going to be an interesting game and I hope we get better games out of both teams. My Pick: Dallas Cowboys
Tennessee Titans @ Detroit Lions
Tennessee….you let me down last week in my wild card game of the week. I was hoping with The Vikings starting Shaun Hill you'd beat them easily… you didn't, but Demarco Murray looked good in his Titans regular season debut. Matt Stafford threw for 340 yards and three touchdowns against the Colts in a shoot-out of a game last week. I like what Tennessee is doing, but not enough to pick against the Lions. My Pick: Detroit Lions
Tampa Bay Buccaneers @ Arizona Cardinals
Jameis Winston and the Bucs looked really good against a decent Atlanta Falcons team. I won't sit here and say after one week they are a lock for the playoffs, but they are headed in the right direction behind rookie head coach Dirk Koetter. Arizona had a tough battle against the New England Patriots to open their season at home. Jimmy Garoppolo threw for 264 yards and one Touchdown while Carson Palmer threw 271 yards and two touchdowns. I am feeling a 2-0 Buccaneers team after this game, but wouldn't be surprised if the Cardinals pull it out. My Pick: Tampa Bay Buccaneers
Wildcard Game of the Week: Miami Dolphins @ New England Patriots
Jimmy Garoppolo has the Patriots 1-0 after week one of Tom Brady's suspension. Only three more weeks to go before Tom Terrific returns. Miami lost a low scoring contest in Seattle against the Seahawks. Ryan Tannehill didn't look spectacular or even good only throwing for 186 yards zero touchdowns and zero interceptions. New Dolphin Arian Foster only rushed for 38 yards on 13 carries. Maybe it's time for Miami to draft a new franchise quarterback… My Pick: New England Patriots
TAMPA BAY AT ARIZONA
One team is coming off an important divisional victory on the road to open the season.  The other is coming off a heartbreaking loss at home to the Tom Brady-less New England Patriots.  The Buccaneers will look to go 2-0 on the season as they travel to the desert for a showdown with the Arizona Cardinals.  Jameis Winston was dialed in last week in Atlanta, finishing with almost 300 yards, four TD's, and one interception, while the defense played well and did enough to hold off a late Falcons rally.  However, that defense will have their work cut out for them against a Cardinals offense featuring rising star David Johnson and future Hall of Famer Larry Fitzgerald.  I'm expecting a high-scoring affair between these two, but in the end, Arizona pulls off the win as both teams end up 1-1 after Week 2.
Brooks Pick: Arizona Cardinals
KANSAS CITY AT HOUSTON
In a rematch of last year's Wild Card game in Houston, the Chiefs will look to go 2-0 after pulling off the largest comeback win in team history in Week 1 over the Chargers.  Kansas City spotted San Diego a 24-3 lead, but mounted their rally in the second half before closing things out with an Alex Smith TD run on an option keeper in overtime.  They can't afford to give the Texans that kind of advantage this week, as Houston looks like they may have finally found their QB in Brock Osweiler, who threw for 231 yards, 2 TD's, and an INT in Houston's 23-14 season-opening win over Chicago.  The Texans also got five sacks from their defense, none of them from JJ Watt.  I look for the Texans' defense to come up big in this one, improving Houston's record to 2-0.
Brooks Pick: Houston Texans
DALLAS AT WASHINGTON
Both the Cowboys and Redskins are coming off inauspicious season-openers, but for entirely different reasons.  The Cowboys lost in excruciating fashion to the New York Giants when WR Terrance Williams didn't get out of bounds in time in the dying seconds, preventing Dallas from running another play in a 20-19 defeat.  The Redskins, on the other hand, got run out of their own stadium by the Steelers in a 38-16 loss on Monday Night Football.  Dak Prescott played very well, if not spectacularly, against the Giants, but I look for him to have a more productive day (particularly if the Cowboys keep Dez Bryant away from Josh Norman).  Playing in their second consecutive NFC East contest, the Cowboys will bounce back this week, as Ezekiel Elliott also runs wild against a Redskins defense that got gashed by DeAngelo Williams for 143 yards and two scores in Week 1.
Brooks Pick: Dallas Cowboys
TENNESSEE AT DETROIT
A matchup of two teams involved in completely different types of games in Week 1, as the Titans held Vikings RB Adrian Peterson in check, but couldn't overcome two defensive TD's by Minnesota in a 25-16 loss.  The Lions outlasted the Indianapolis Colts in a 39-35 classic after blowing a 21-3 lead, as Matthew Stafford out-dueled Andrew Luck by going 31-of-39 for 340 yards with three TD's and no interceptions.  Detroit kicker Matt Prater made up for a missed extra point by booting the game-winning field goal in the final seconds.  While Marcus Mariota had two TD passes and threw for 271 yards, it was his mistakes that led to Minnesota's only touchdowns, as his lone interception and fumble were both returned for six points the other way.  I think Mariota will bounce back and have a strong day against a Detroit defense that got shredded by Andrew Luck, but I also believe Stafford continues his stellar performance and outguns the Titans in a game that once again comes down to the fourth quarter.
Brooks Pick: Detroit Lions
WILD CARD GAME OF THE WEEK:  SAN FRANCISCO AT CAROLINA
The Panthers came so close to avenging their loss to the Denver Broncos in Super Bowl 50, but Graham Gano's missed field goal in the waning moments cost them in a 21-20 loss in Denver.  Meanwhile, the San Francisco 49ers are coming off a dominant 28-0 victory over the offensively-challenged Los Angeles Rams on MondayNight Football.  I don't expect the Niners to maintain that momentum, as they'll be traveling across the country for a 1 pm game against what should be an angry and frustrated Panthers team looking to bounce back from that tough loss on opening night.  Look for Carolina's defense to come back strong and force a couple of turnovers, giving Cam Newton and the Panthers offense a short field and allowing them to build up a big early advantage while cruising to an easy win.
Brooks Pick: Carolina Panthers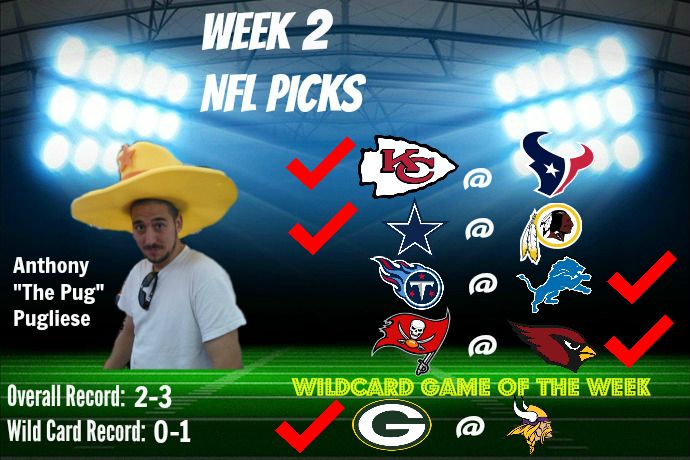 A rough first week for the champ, but a perfect week this week will turn things around.
Tampa Bay Buccaneers @ Arizona Cardinals
The Bucs offense was sharp last week against the Falcons and they came away with an opening day win. The Cardinals lost to the Patriots when no one thought they would lose against a team without it's top two offensive stars. The Cardinals felt the loss was unacceptable, and Bruce Arians will have the Super Bowl hopeful Cardinals ready to roll in week 2. The Bucs have already shown improvements in 2016, but it may not be enough to pull out a win in week 2. Pick: Cardinals
Kansas City Chiefs @ Houston Texans
After pulling off a huge comeback win against the Chargers last week. the Chiefs are riding high. The Texans are also coming off a victory that saw the emergence of  rookie receiver Will Fuller. The Texans offense wasted no time finding their groove, but the Chiefs are a much better team than the Bears are. This may be a close contest, but in the end, the Chefs are the better all around team and will emerge the victors. Pick: Chiefs
Dallas Cowboys @ Washington Redskins
Both teams are coming off losses, but the Cowboys proved they can be competitive with the impressive play of rookie quarterback Dak Prescott. The Redskins defense was beaten bad by the Steelers offense, especially the ground game. Rookie running back Ezekiel Elliot may be in line for a huge day if the Redskins don't find answes from last weeks mess. Chances are they won't fair any better against the Cowboys impressive offensive line. Cowboys in a close one. Pick: Cowboys
Tennessee Titans @ Detroit Lions
Matthew Stafford and the Lions offense looked impressive last week against the Colts, and will look to build off the great start again this week. The Titans should fin more success on offense then they did last week against a tough Minnesota Vikings defense, but it still won't be enough to keep up with Stafford and company. Pick: Lions
Wildcard: Green Bay Packers @ Minnesota Vikings
The Vikings defense came up huge last week in providing the Vikings with two touchdown to aid them in an opening day win. The Packers won a close one against the Jaguars that was a nail bitter to the end. Aaron Rodgers will make less mistakes than Marcus Mariota made last week against the Vikings, and with huge questions at quarterback for the Vikings, the Packers should win this NFC North contest. Pick: Packers
Tampa Bay @ Arizona: Right now, the Buccaneers are the lead dogs of the NFC South. Jameis Winston put on a masterful four touchdown performance against Atlanta last week. But that was last week. This week Pewter Nation heads into the desert to face Cardinals team that mighty sore after losing to a Tom Brady-less Patriots squad. I won't say this will be a blowout, but Arizona is just a wee bit too much to handle. Then again, Jimmy Garoppolo managed to steal a win, right? Pick: Cardinals
Kansas City @ Houston: This matchup is interesting to me as both teams could potentially win their respective divisions by season's end. The Chiefs defeated division foe San Diego, and the Texans dispatched Chicago at home. While those opponents are necessarily top tier, these two teams do have respectable defenses. This could be a stalemate, yet I do like the Chiefs offense slightly better than Houston's. Pick: Chiefs
Dallas @ Washington: One of the league's oldest rivalries, however recent years of mediocrity have tarnished both NFC East clubs. Both teams are fresh off defeats, with the Cowboys losing a close one to the Giants and the Skins getting blown out on Monday Night to Pittsburgh. I like what I'm seeing out of Zeke Elliott, and with that offensive line, they could wreak havoc on DC's defense. Kirk Cousins needs to jump start his offense, which shouldn't be hard with weapons like DeSean Jackson and Jordan Reed. Pick: Redskins
Tennessee @ Detroit: I liked the new attitude that Matthew Stafford showed this past week. Almost reminiscent of Tom Brady; in just about the entire teams face. I guess losing Megatron to retirement will do that. This week the Lions welcome the Titans to Ford Field, and while both teams are considered to be the bottom-feeders of their divisions, I have to give the edge to the home team in a close game. Pick: Lions
Wildcard Game of the Week
Cincinnati @ Pittsburgh: I can't say that I'm excited about this game, but I'm curious to see how this game plays out. Considering how things went down in Cincy last year, will Marvin Lewis be able to keep his unit under control? Or will tempers flare and this turns into an all out war. Andy Dalton is no slouch, but with Big Ben, Antonio Bryant and DeAngelo Williams running the show for Steel City, this could be a long day for Bengals fans. Pick Steelers.